RALS Orthopedic department offers comprehensive orthopedic care for most of the musculoskeletal problems. Our highly qualified and well experienced orthopedic team integrates both surgical and non-surgical specialized care for problems ranging from simple fractures & joint issues to complex spinal procedures. Apart from general orthopedic problems like trauma, spine diseases our team of experts also deal with sports injuries, degenerative diseases, infections, tumors, and congenital disorders of the musculoskeletal system. 
Trauma – fracture, subluxation & dislocation of joints.

Back pain, neck pain.

Tendon/ligament/muscle sprains.
Gout (Uric acid).
Tennis elbow, carpal tunnel syndrome.
Rheumatoid arthritis, osteoarthritis.
Vitamin D deficiency.
Bone & soft tissue swellings.
Children's orthopedic problems.
Visco supplementation.
Steroid injections.
Surgery for bone and joint problems.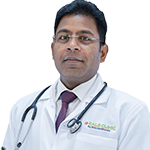 Dr. Selvaraj periyasamy
MBBS, MS(Ortho), DNB(Ortho)
Specialist Orthopedic Surgeon
Dr. Selvaraj Periyasamy is a proficient and qualified Orthopedic surgeon with total 11 years of specialty experience.