BEST PEDIATRICS CARE IN AL QUSAIS
Our pediatric department is well equipped with the knowledge, skills and attitude necessary to manage a wide spectrum of diseases that arise in infants, children, and adolescents. Apart from diagnosing and managing diseases, our pediatric team will enable parents to monitor & assist normal growth and development of their kids to achieve full potential as adults. 
Prevention, diagnosis and treatment of acute and chronic illnesses such as: 
Cold, flu & fever.
Bronchitis.
Abdominal pain, nausea, vomiting.
Asthma.
Rashes & allergies.
 Urinary tract infections.
 Diarrhea, dehydration.
 Child development assessment.
 Physical fitness/assessment for school/sports etc.
 Comprehensive immunization program.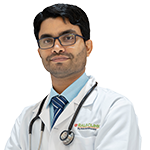 Dr. Ajayan Payyadakkath
MBBS, MD(Pediatrics)
Specialist Pediatrician
Dr. Ajayan Payyadakkath obtained his MBB from Calicut Medical College, India. He pursued his MD in Pediatrics and senior residency at Jawaharlal Institute of Postgraduate Medical Education & Research (JIPMER), Pondicherry, India.